---
---
Different, in a realistic way...
What I love about this one? The concept of being trapped in hell by your choice. Although, you may have never realized it. Faced with the concept of "free will" vs. choices / consequences. The possibility of making our own version of "hell" even while we may be alive. Plus, the random seating at performances. Right off, that makes you question choice vs. fate. And is a great intro to the performance. Kind of: will set the perfect mood.

The higher goal (financial) does make sense. Ms. Bird provides a detailed breakdown, including what a lot potential backers may not realize: insurance.

The overall presentation is fairly short and right to the point. You are not lost / bored on unnecessary details. The only thing missing is an estimated premiere date. Which I found a little strange. Other than that, this is a great Crowdfunding project from the technical side.

Honestly, just from the project, this is one performance I would love to experience. Ms. Bird really knows how to grab your attention and keep it!

Noisy Nest presents 'No Exit' is definitely a crowdfunding project that should be high on your list to back. It is a long term dream of one woman. Who has the courage and determination to make it a reality.

---
Are you looking for a shipping solution? Maybe you need to change freight carriers? Find out what the hard working and reliable people at Team Worldwide can do over land, sea and air
Powered by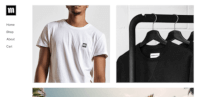 Create your own unique website with customizable templates.