Ready for reliable and friendly service in a towing company? Combined with competitive rates? Call Force 1 Towing and Auto Body in Catasauqua at 610-266-6721
---
---
Help homeless person with car / move

The magazine makes several attempts to help others. Highlighting crowdfunding projects is one of those ways.
I have known Al Handa through Twitter. Trust me, he is amazing when it comes to re-tweeting. Even though he is homeless and doing everything possible to get out of it; Al gives his heart and really tries to help others!!! It is amazing how a simple re-tweet can increase your numbers. Plus, he is documenting his experiences in an upcoming book in another effort to help others.
Al has one of the cutest dogs you will ever see. His mascot and best friend. He posted on Facebook that Ivy had passed away. Any pet owner, myself included, knows they are a part of the family. It hurts just as much when we lose our best friends.
If there is any way possible, please help Al, one person with a big heart who does a lot to help others:
www.gofundme.com/27w83daq
---
Are you looking for a shipping solution? Maybe you need to change freight carriers? Find out what the hard working and reliable people at Team Worldwide can do over land, sea and air

Powered by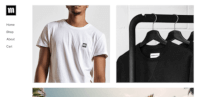 Create your own unique website with customizable templates.