Kristina's Surreality
The subjects I want to cover in my section of the magazine maybe triggering. There will be real life stories featured of traumas people have survived through. People will share their experiences of living with mental illnesses. I'm hoping this can help break stigmas on mental illnesses,and inspire victims to get the help and resources they need to work through their trauma. At the very least feel some sort of comforting knowing they are not alone. My poetry will be featured which is very personal and revealing of my experiences. I feel like I need to share mine if I expect others to share their stories "Passionate People" is made up of interviews and displaying images/videos of artists,musicians, photographers talking about and engaging in their craft/passion. I will be doing articles on community outreach groups consistently. I will promote opportunities to get involved or do volunteer work whenever I can. I wanna be a positive face of media. There's enough of the negative. Hope you enjoy the content. One Love.
Powered by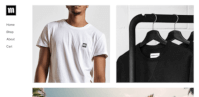 Create your own unique website with customizable templates.